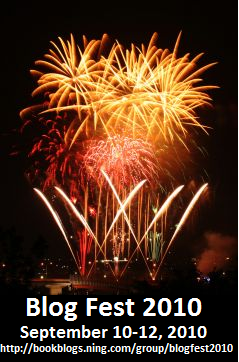 Can I get a woot woot! I'm so excited! I have a feeling I'll be on my laptop all weekend checking out all the different blogs and contests! This is going to be great! ^.^ Oh and just in case you blog stalk like I do here's the
LINK
to a full list of Blogfest participants. Makes the going a little easier, right? So while my giveaway won't have all the pomp and extravaganza that would be expected (tear tear) I'm doing what I can! I'm making this clean and simple, because frankly I don't want to deal with a bunch of extra entries and crap and I know that I hate it when other bloggers do it so I'm not going to subject ya'll to that headache. Quick rundown of my few rules.
1. Don't have to be a follower, but it would be nice if you would. If you follow me (old or new) you gain one extra entry. And that's it. No +5 for a blogpost, +3 for twitter, and etc.
2. Tell me what book you would like to receive. It can be already published or a pre-order. Hardback or paperback. Doesn't matter. The only thing I can't promise are ARC's so pre-orders will have to do.
And that's it. Sweet and simple and headache-less. See aren't I nice? OH and this is international as well. So you faux Canadians, Brits, and Aussie's or wherever the heck you are from can enter as well. As long as the Book Depositry ships to your country. And without further adieu here is the form! Have a great time this weekend everyone! And enjoy!