Kiss and Tell is the brilliant brain child of Aly @
Fantasy4eva
! The idea for K&T is to share your recently purchased, borrowed, or book haul from the library. Share what your expectations are of your haul and rate them accordingly. Check out Aly's blog for further explanation and rules!
So guess what?! I actually went to the library! *pats self on back* I'm so proud of myself! Partially because I'm so bad about going there. I got three books and ran into a friend so it turned out to be a fruitful trip! Here's my haul!
hush
by Donna Jo Napoli:
Melkorka is a princess, the first daughter of a magnificent kingdom in mediæval Ireland -- but all of this is lost the day she is kidnapped and taken aboard a marauding slave ship. Thrown into a world that she has never known, alongside people that her former country's laws regarded as less than human, Melkorka is forced to learn quickly how to survive. Taking a vow of silence, however, she finds herself an object of fascination to her captors and masters, and soon realizes that any power, no matter how little, can make a difference.
Based on an ancient Icelandic saga, award-winning author Donna Jo Napoli has crafted a heartbreaking story of a young girl who must learn to forget all that she knows and carve out a place for herself in a new world -- all without speaking a word.
My thoughts:
I discovered this book forever ago, but I've never read it until now! I'm very glad I found this at the library. I absolutely love Irish tales and even though it doesn't involve faeries (depressing I know) it still sounds like a great read! I would have to give it a 7 rating. I think I'll like it, but it probably won't be AH-mazing.
Bones of Faerie
by Janni Lee Simner:
It has been 20 years since the war between faeries and humans destroyed everything. Liza, a teenager living in what was once the Midwest, has always been taught that magic kills. When Lizas mother gives birth to a faerie baby with hair clear as glass, her father abandons the infant on a hillside to die; Lizas mother then runs away, and Liza begins to have magical visions of her own. Petrified that her powers might cause death, Liza flees into the woods with her friend Matthew, only to be attacked by deadly trees and rescued by a woman with magic. The plot quickens as Liza realizes that the woman is connected to her mothers past, knowledge that propels Liza into a dangerous journey into the land of Faerie, in search of her mother.
My thoughts:
Hey guess what?! FAERIES! Muwahahahhahaha! Success! I'm such a faerie junkie so even if this book ends up sucking I'll probably still like it. :P I highly doubt that will happen though since this book sounds great! War between faeries and humans?! WHOA! I think it's a very awesome idea to take a different spin on the whole faerie world. Usually humanity has no clue that faeries exist, but not in this novel! I'm very very excited to read this and I give it a rating of 8! I have a feeling I'll really like it, but it's not steal the show worthy.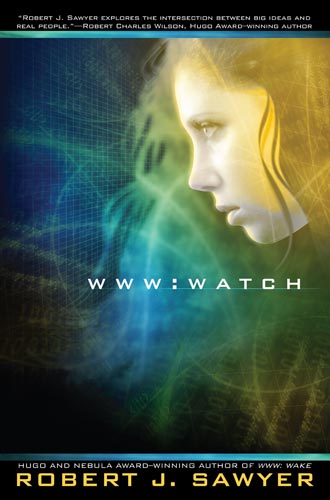 WWW: Wake
by Robert J. Sawyer:
Webmind is an emerging consciousness that has befriended Caitlin Decter and grown eager to learn about her world. But Webmind has also come to the attention of WATCH-the secret government agency that monitors the Internet for any threat to the United States-and they're fully aware of Caitlin's involvement in its awakening.
WATCH is convinced that Webmind represents a risk to national security and wants it purged from cyberspace. But Caitlin believes in Webmind's capacity for compassion-and she will do anything and everything necessary to protect her friend.
My thoughts:
So I think I almost screamed when I saw my library had this. Thankfully I didn't because I probably would have gotten kicked out. I AM SO PSYCHED! I absolutely adored WWW: Wake, the first book of the WWW Trilogy and I cannot wait to start reading Watch! You can probably guess which book I'm reading first!!! I give a rating of 10! I know I will adore it!
Random Thoughts:
So my random encounter with my friend at the library has led to a wonderful thing! As soon as I got home she texted me wondering if I would read over a story she was working on and invited me to meet for coffee! So now we're exchanging stories over coffee tomorrow morning and my day tomorrow looks infinitely better. Coffee and sno-cones in the same day?! EPIC!