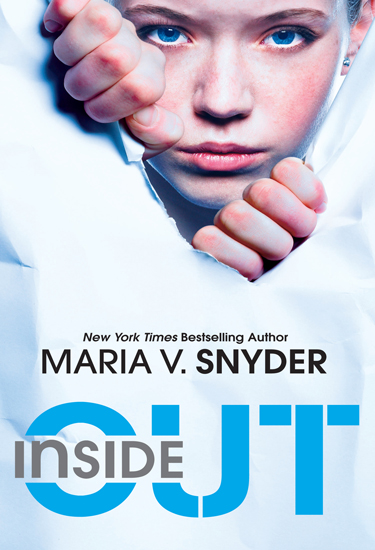 So I actually finished this book a few days ago. Lacking time and not wanting to do six posts in two days I waited to review
Inside Out
by Maria V. Snyder. Now that I've
finally
got around to doing it I feel a lot better. :D
Synopsis:
I'm Trella. I'm a scrub. A nobody. One of thousands who work the lower levels, keeping Inside clean for the Uppers. I've got one friend, do my job and try to avoid the Pop Cops. So what if I occasionally use the pipes to sneak around the Upper levels? Not like it's all that dangerous - the only neck I risk is my own. Until I accidently start a rebellion and become the go-to girl to lead a revolution. I should have just said no...
My Review:
So if you haven't already picked up on the fact that I'm a HUGE Maria V. Snyder fan, well then I guess I just re-iterated that point.
Inside Out
was a complete change from her other novels. There's no magic, mystique, or sexy assasins... which was kind of disappointing at first but I got over it. Trella is tough, cut throat, and never backs down from a challenge. She lives to break the rules and is known as the Queen of the Pipes. She knows every inch of the air, heating, and water ducts that run throughout Inside. When approached by a Prophet who claims that Gateway is real and Outside does exist, Trella is driven to prove him wrong. She is after all the only person in all of Inside who can sneak up to the Upper levels and retrieve the information the Prophet needs. However things don't go as planned and the hope to find a way out upsets the balance on which Inside is built. Trella finds an unexpected friend in the Uppers, and even more surprises await when the Scrubs not only help hide her escapades but support her in her endeavors. A full scale rebellion is on the horizon and Trella finds herself to be at the front of it.
Inside Out
is action packed and I was at the edge of my seat the whole time. I adored Trella's character, and her unexpected heritage was a huge surprise. Her character truly evolves throughout the book. She goes from being very introverted and only concerned with herself to caring about the future of all the Scrubs. I loved Cog and Riley as well. Riley is an Upper, but is unlike anything Trella ever expected. He's caring, has a great sense of humor, and genuinely wants to make life for the Scrubs better. I'm having a hard time truly describing this book. It was just so amazing and I can't talk about it without gushing and spilling the whole plot line. Which would end up badly for those of you who haven't read it yet. So I guess I'll just end this with saying, IT'S AMAZING! You won't regret reading it, and it's a definite must buy! :D