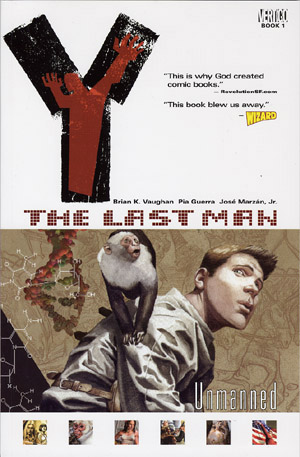 Yorick Brown is an escape artist; has a fabulous girlfriend who's traveling in Australia; and possesses a genetic make-up that's allowed him to survive a plague that killed every male being on the planet except for him and his pet monkey. Yorick is the last man on earth, and in the resulting chaos, he must find a way to help save the human race. At least that's what the (now all-female) government thinks. Yorick would prefer to find his girlfriend, but it's hard to get a flight halfway around the world when almost all the pilots and mechanics are gone. It's hard enough to drive down the block, since the streets are jammed with the cars of men who were behind the wheel when the instantaneous plague hit. Furthermore, the entire social fabric has gone to hell, with gun-wielding wives of Republican representatives insisting on getting their husbands' seats and tribes of latter-day Amazons claiming males were meant to die. Since Yorick's mother is a congresswoman, he's protected by secret spies. And his escape skills come in handy when he's trapped first by a marauding garbage-woman and then by his mother, as she tries to keep him from doing anything stupid. Meanwhile, who are the mysterious Israeli soldiers who seem so gratified by the situation, and why is Yorick's sister so intent on joining the Amazons? With clean lines and muted colors, Guerra and Marz n invoke a frighteningly believable future; their vision of the surprise and horror to come is so beautifully ordinary, it's entirely convincing-and addictive.

My Review:

If you think Watchmen is the king of graphic novels then you shall be sadly disappointed. Y: The Last Man is an amazing piece of literature. And yes I say LITERATURE because the plotline is ten times better than most so called novels. Yorick is an interesting and well developed main character who has flaws just like the rest of us. His unique abilities from being an amateaur escape artist are vastly entertaining and provide for an even more intirguing story. I am currently on Volume 8 of the series and I'm still hooked. The story line never drags and there is so many different sub-plots that it is impossible to get bored.

The fact that the "Plague" is scientifically based and not just some mystical ordeal also makes this series amazing. It is an intellectual read and I definitely learned a thing or two about genetics. Who says graphic novels couldn't be education? The modern day Amazons are not only psycho but they are entertaining to read about as well. With a number of different twists in the plot this story is simply amazing.

If the escape artist main character, kick ass secret agent who's name is a number, and the certain amazing adventures that come along with it can't get you to pick it up, I have one reason why you will not be capable of resisting. Ampersand. If that isn't the single most epic name for a pet monkey I don't know what the world has come to.